I kept thinking yesterday was Wednesday. No idea why. But no, What I Ate Wednesday thing is today. Thank you as always to the lovely Jenn of Peas & Crayons for hosting the weekly link party. Take a visit to see more WIAW from other bloggers!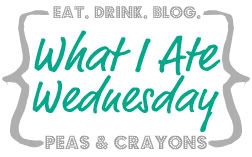 I thought that for a change we'd do a workday re-cap. Sound good?
Speaking of work, yesterday, a patient told me an awesome story about sitting alone in this sun-room-type space we have on the floor and laughing out loud to their deceased sister, "I know it's your birthday. Wouldn't it be nice to have a cup of hot coffee, the way we both like it?" A few minutes later, someone came from another floor with a big container of—yep—hot coffee. Skeptics say what you will—all that really matters is that this totally made this person's week, and just feeling how happy they were when they told me about it made me happy.
Anyway, just thought I'd share. I love those little moments. Now onto the raison d'etre of this post: Here's what  I ate Monday…
Breakfast: Ubiquitous zucchini bread oatmeal with some peanut butter
Lunch: Salad from home; soup from work
Snack: Plain Greek yogurt with cinnamon, puffed millet and roasted figs
Dinner: Ugly but good use of leftovers—leftover tomato sauce with a steamed kale and chicken meatballs and grated parm; toasted bread on the side with hummus & eggplant; red wine
Snack: (unpictured) more using up leftovers—~1/4 c plain yogurt mixed with cocoa powder and half a banana that was about to go bad.
I swear I make pretty things too, just, gah—Mondays.
What's made you happy recently? Any favorite "use up the leftovers" meal ideas? 
Hungry for more?
Subscribe to get the latest nutrition information, self-care strategies, and healthy living tips delivered right to your inbox.