Before we get into our regularly-scheduled post, I just want to take a moment to acknowledge the events of 9/11 2001. I know that might sound like a far cry from the normal tone of this blog, but it was an horrific event that touched many people—chances are you're thinking of a few in particular. With all the unrest in the world (let's not make this into a post about recent events concerning Syria), it's important to say a little "thank you" for the small, good things and to send loving thoughts to those who need them. 
I'm back to work today after a four-day weekend. I finally got my day off for Labor Day, and because I'm working this weekend, I had Monday off. This is the longest stretch I've been off since before I started this job, so I enjoyed my downtime immensely. Naturally, I got to enjoy some nice meals in the calm of my own space instead of at my desk. Kind of crazy to think that two of my three meals each workweek day are eaten in front of a computer. Scary.
So let's do this What I Ate Wednesday thing then, shall we? Thank you as always to the lovely Jenn of Peas & Crayons for hosting the weekly link party. Take a visit to see more WIAW from other bloggers!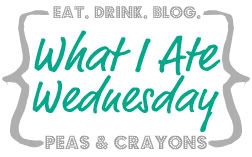 Monday, I "slept in" until almost 7 (I'm such a rock star). After throwing in some laundry and hitting the gym, I enjoyed a freshly-made bowl of oatmeal instead of something reheated. What a concept! I did a little work for freelance projects during the day, but I also went and got a reflexology massage and a manicure, and had coffee with a friend. At various points in the day, I ran some errands and did a little Fashion Week people-watching. I've accepted that, while I like clothes, I'll just never really "get" the fashion world, and that's okay. Doesn't mean I don't like to observe!
I might wear mostly black (typical New Yorker, I know), but I like my meals  colorful. Monday did not disappoint in that department.
Breakfast: Zucchini Bread Oatmeal with peanut butter
Lunch: Tempeh and leftover roasted veggies over baby spinach with miso-tahini sauce; roasted sweet potato rounds on the side
Snack: Plain Greek yogurt with fruit and cereal
Dinner: Quinoa with more leftover veggies and tempeh, topped with goat cheese; an unpictured square of ginger dark chocolate
Snack: Roasted nectarine topped with Greek frozen yogurt, PB2sauce, and a few cereal crumbles for crunch
Do you feel like you "get" fashion? Do you like to wear a lot of color or do you just like it on your plate? What's the best thing you ate recently? 
Hungry for more?
Subscribe to get the latest nutrition information, self-care strategies, and healthy living tips delivered right to your inbox.