Long weekends always make it seem like Wednesday comes even sooner than normal, even when I work the Monday holiday! Here's another weekend What I Ate Wednesday. Thank you as always to the lovely Jenn of Peas & Crayons for hosting the weekly link party. Take a visit to see more WIAW from other bloggers!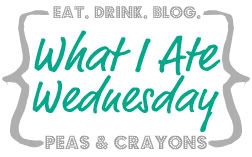 Here's a look at Saturday with "the cousins"—3 generations at one table! We can all agree on a few things, though…
There was food too, of course!
Breakfast: After a morning working, I enjoyed an egg-white veggie scramble and toast with tahini and roasted eggplant.
Appetizers: I was still full from breakfast so only had a few nibbles of crudite and a slice of kielbasa, but there were a lot of pretty cheeses and dips
Lunch/Linner: I had some of the salmon, red cabbage slaw (with ginger carrot dressing—delicious), salad, and some watermelon & goat cheese.
Dessert Part I: I wasn't ready for real dessert yet, so I had a sliced nectarine with whipped cream and took a slice of stone fruit pie for the road.
Snack/Mini-dinner: Basically the second I got back to the city, I got hungry, so I made a salad with some last-legs greens and veggies
Dessert Part II: The pie got smushed in transit, but I was still able to enjoy it warmed up with some vanilla Greek frozen yogurt.
What was the best thing you ate last weekend? 
Hungry for more?
Subscribe to get the latest nutrition information, self-care strategies, and healthy living tips delivered right to your inbox.