This week has been one of those busy ones. Do I say that every week? I might. Before we get into the What I Ate Wednesday-ness of this post, I just wanted to share with you all just how I've been dealing with the now-frigid office temps:
Yep. That's exactly what it looks like. And it is awesome. And by awesome I also mean hilarious. I would much rather be amused than freeze my ass off. I like my ass the way it is, thanks. So yes. I now am the owner of an unironic Snuggie—an unironic Work Snuggie at that. Oh, life.
Anyhow…Thank you as always to the lovely Jenn of Peas & Crayons for hosting the weekly link party. Take a visit to see more WIAW from other bloggers!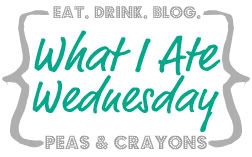 I've been packing my lunches this week because I need a little TLC, and food made with (self) love is one of the best sources. Here's an example from Monday:
Even though it's cold in my windowless office, my tastebuds knows it's salad weather, so this is what I've been craving come lunchtime. To give you something more colorful to look at, here's what I ate on Sunday.
Breakfast: Chocolate egg white oats with pumpkin, eaten in an almost-empty PB jar
Lunch: Giant salad (same as the one above)—I ate one and packed up the other for Monday—I ate it with an oven-toasted piece of fantastic bread my mom gave me from Whole Foods that has quinoa, millet, and other assorted tree nut-free awesomeness in it. I was out of hummus, so I spread on some tahini and a few slices of roasted eggplant
Snack: Cottage cheese with raspberries and homemade dark chocolate granola
Dinner: Leftover chicken meatballs with baby spinach in a mushroom tomato sauce over…cauliflower rice, of all things. I was making some for the next day and was too lazy to make pasta; more of that awesome bread for dipping.
Snack: Roasted plumcot with Greek fro-yo. Still not over how good this is.
Be honest: Do you have a Snuggie or secretly want one if you don't? What do you like to eat or make when you need a little TLC? 
Hungry for more?
Subscribe to get the latest nutrition information, self-care strategies, and healthy living tips delivered right to your inbox.