1.) Full moons and PMS should not be allowed to coincide, but that is neither here nor there.
2.) After fighting an August cold last week/weekend, I'm finally feeling like myself. I could tell something was up when I noticed I wasn't as hungry during the workday… Though I enjoyed some of the usual sick-day staples like soup over the weekend while I recovering, the extra downtime also gave me a chance to try a few new things in the kitchen and clean out my cabinets and freezer a little.
3. Um, Happy What I Ate Wednesday? So let's get to the "What I Ate" part of this post, shall we? Thank you as always to the lovely Jenn of Peas & Crayons for hosting the weekly link party. Take a visit to see more WIAW from other bloggers!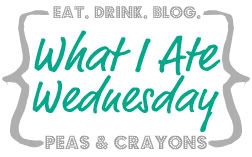 Haha I'm fully aware that my "sick day" appetite probably still involves more food than a lot of people's normal day, but hey, what's normal for you is normal for you. I know a lot of people avoid dairy and certain other foods when they're under the weather, but in general, I tend to feel that we should eat what we crave when we're sick. My only rule is that I make sure to work in lots of fruits and veggies and plenty of fluids. With a few exceptions, it seems like, more or less, that's all I really wanted to eat anyway this go-around.
Breakfast: I've been eating this zucchini-carrot oatmeal a lot lately. What started as a way to use up baby carrots has become a new favorite—go figure.

Lunch: Friday when I came home early from work, I enjoyed some ravioli soup
Snack: Being sick always makes me crave green apples for some reason. I also swear by turmeric tea.
Dinner: Sunday night I combined a can of Trader Joe's Masala Simmer Sauce (weird springtime impulse buy) with a can of chickpeas and a bag of frozen stir-fry veggies. It was good but not spicy enough. A little curry powder fixed that. I enjoyed it over some cauliflower rice (pulse cauliflower florets in a food processor and cook with some minced garlic in a little coconut oil—almost too easy), which I would totally make again—it was really tasty and soaked up the sauce so well!
Dessert: Warm, roasted plumcots + cold Greek frozen yogurt—perfect for a sore throat!
What do you find yourself eating when you're sick? 
Hungry for more?
Subscribe to get the latest nutrition information, self-care strategies, and healthy living tips delivered right to your inbox.