Good morning and welcome to another What I Ate Wednesday! Mid-August, how is that even possible? This summer has been going a mile a minute…Thank you as always to the lovely Jenn of Peas & Crayons for hosting the weekly link party. Take a visit to see more WIAW from other bloggers!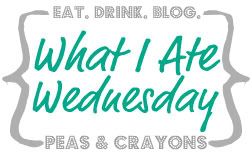 For better or worse, the old saying that time flies when you're having fun is totally true. This summer, busy as it's been, has been a good one. When I haven't been working my toenails off, I've been enjoying my free time. This past weekend, I even ventured out to Long Beach for some relaxation under the sun. The food certainly didn't suck either. Here's a day of beach eats:
Breakfast: Before heading out Saturday morning, I enjoyed a filling breakfast of salad, scrambled egg whites, and a whole wheat sandwich thin with hummus and roasted eggplant
Lunch: We picked up sandwiches at a grocery store near the beach. I went with turkey, lettuce, tomato, and mustard on whole wheat. Gotta love the typo.
Dinner: Oysters and "lobster bake," which came with corn on the cob, clarified butter, cole slaw, and chips. The last 3 c's went untouched (I will probably just never warm up to cole slaw or chips, and that is totally okay), but I was still a happy camper. There was also beer and wine involved.
Snacks: Some pineapple and strawberries at the beach; much later, a few thin mint cookies (2 or 3) and a few sips of skim milk before bed—random but it got my stomach to stop growling
What are some of your favorite things to eat at the beach? 
Hungry for more?
Subscribe to get the latest nutrition information, self-care strategies, and healthy living tips delivered right to your inbox.