Good morning and welcome to another What I Ate Wednesday. Any Firmoo giveaway winners who haven't contacted me, you still have another few days to claim your prize!
Thank you as always to the lovely Jenn of Peas & Crayons for hosting the weekly link party. Take a visit to see more WIAW from other bloggers!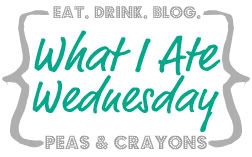 Last week was pretty weird, since I had off Monday because I was working Saturday, but luckily, I still managed to enjoy a nice weekend and recharge to take on the new week.
Friday night I had dinner with a lady-friend, and then Saturday after working and a nap, I enjoyed dinner and a movie (The Conjuring wasn't as scary as I thought it would be, though I fully admit to keeping my head down through a lot of it). Sunday was pretty mellow and productive: a day in which I both enjoy a sunny walk in the park and get a bunch of cleaning, cooking, and errands done is pretty sweet in my book.
Here's some of what I ate over the weekend:
Breakfast: Saturday I enjoyed the usual desk breakfast of zucchini bread oats with coconut-PB spread; Sunday I never got around to breakfast (rare but almost always for good reasons)
Lunch: While working Saturday, I enjoyed some unpictured cherry tomatoes; another mini-frittata served over leftover garlicky bitter greens and a mix of broccoli & cauliflower that needed to get used; lunch "dessert" was a single-serving bag of kettle corn popchips. I'm glad I finally tried them, but I don't know if I'd go out of my way to buy them again—I'm not really a chip-eater.
Snacks: Saturday afternoon I enjoyed some Greek yogurt with PB2, fruit, and a little cereal after a disco nap. Freaking glorious.
Dinner: Friday night I enjoyed a skirt steak with arugula and a spicy tomato sauce at an awesome Tuscan restaurant; Saturday night involved fried calamari and a delicious ahi tuna salad at The Smith. And prosecco.
Dessert/Snack: Greek fro-yo with roasted figs is in the rotation again—so lovely.
What was the best thing you ate this weekend? 
Hungry for more?
Subscribe to get the latest nutrition information, self-care strategies, and healthy living tips delivered right to your inbox.