I've been all thrown off this week because of having Monday off, but the calendar tells me that yes, it is in fact Wednesday already—aka What I Ate Wednesday.Thank you as always to the lovely Jenn of Peas & Crayons for hosting the weekly link party. Take a visit to see more WIAW from other bloggers!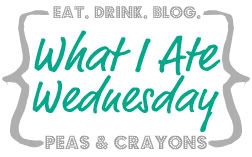 The other day, I got a spam comment saying, "I HATE what you are doing" regarding the whole WIAW thing, but hey, it's my blog, and I didn't ask you, robot. So without further ado, here's what I ate in Newport at the folk festival. This year, my family rented a house since my parents, sister, aunts/uncles/cousins were there a little longer and we cooked dinner every night I was there. We enjoyed some great stuff. Here's what Saturday entailed:
Breakfast: leftover veggies from the previous night's dinner, topped with an egg and a packet of Wholly Guacamole I found in the fridge.
Lunch: My mom and I split a lobster roll and a Greek salad with hummus.
Snacks: An unpictured apple; later, vanilla Greek frozen yogurt from Ben & Jerry's
Dinner: Sautéed scallops & shrimp with salad and bread with olivio light spread—I think that's what it was called, at least; a big glass of wine was also involved
Dessert: Leftover fruit salad made with plums, grapefruit and watermelon
Here's what I ate at Newport Folk Festivals past…
What kinds of things do you like to eat on vacation? 
Hungry for more?
Subscribe to get the latest nutrition information, self-care strategies, and healthy living tips delivered right to your inbox.