And here we are, another What I Ate Wednesday. Did you enter my Firmoo glasses giveaway yet? They've got so many cute sunglasses and frames that make me a little less set on laser eye surgery.
I've had this running joke with my friend that for my 35th birthday, I'm going to get the vision correction procedure—or freeze my eggs (this joke originated during an "omg I'm so undateable such a Sagittarius/workaholic" phase). But maybe I should just go on a fabulous vacation with that money and keep loving on nerdy frames and daily-wear contact lenses and, well, not freeze my eggs. Eight years ago I was wearing silver cowboy boots and flare jeans and taking screenwriting classes at night after my PR internship let out for the day. Who knows what my life will be like eight years from now?
Sorry, I have no idea how I got on that tangent. We were talking about What I Ate Wednesday-ness. Let's redirect…Thank you as always to the lovely Jenn of Peas & Crayons for hosting the weekly link party. Take a visit to see more WIAW from other bloggers!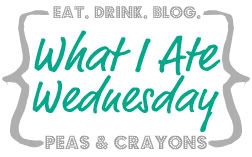 I thought yesterday was Wednesday until one of my elderly patients said something about it being Tuesday, and I was, like, "Sh!t Jess, you need some more coffee." With the state survey finally over and some freelance projects in the "doing" phase instead of the "planning"/Mercury retrograde phase, I've had a little more headspace to get organized at my clinical  job and am hoping to settle into more of a groove soon. That doesn't mean I've gotten good at remembering what day it is yet, but hey, baby steps.
Monday was  a Monday, but I had dinner plans with a dear friend to look forward to. One of my best girl is moving to Chicago, so it was awesome to catch up and over some tasty food at Josie's and talk about the past, present and future.
Breakfast: (unpictured) roasted fig before the gym; zucchini bread oatmeal w/ coconut PB at my desk
Lunch: A kind of weak salad that I tried to save with hummus; an unpictured orange a little while later
Snack: Kefir with berries and cereal
Dinner: Coriander-crusted yellowfin tuna with stir-fry veggies and rice in a miso-wasabi sauce; a glass of dry rose. Lovely. Josie's never disappoints.
Snack: Some of Saturday's banana bread, warmed up and topped with nonfat ricotta
Do you have any big plans for big birthdays? Do you ever forget what day of the week it is? What was the last restaurant meal you ate? 
Hungry for more?
Subscribe to get the latest nutrition information, self-care strategies, and healthy living tips delivered right to your inbox.