Welcome to another edition of What I Ate Wednesday. You can find out more about the series on founder Jen's blog.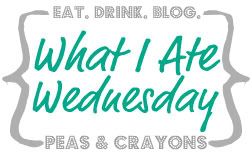 I can't believe I've been doing this for 12 weeks now! The first week I participated, I was really hesitant and wondered if I'd like photographing what I ate over the course of an entire day. I have to admit, though, it's been really fun and has pushed me to be more creative on busy days—and to take better pictures.
This week, I didn't have to be at the clinic until the afternoon. Since I didn't have to worry about a breakfast that could carry me from 8 to 2, I decided to try something new, figuring that if I hated it, I'd just never make it again. It was also great to be able to make lunch right before I planned to eat it. Chris had his first day of orientation at his new job, so I basically just lounged around all morning and caught up on emails.
It was the last night of my summer class. It turned out to be a lot more interesting than I'd anticipated, but wasn't my favorite.
I was pretty burnt out when I got home, so I threw together a quick dinner and then Chris and I got in bed to watch The Kennedys on Netflix (we're on the 3rd episode) and eat ice cream. I am so happy to finally be school free for two whole months!
Breakfast: Overnight oats made in an almost-empty peanut butter jar. It was ok.
Lunch: Salad of greens, tomato, roasted pepper, roasted cauliflower, and a crumbled Dr. Kracker flatbread tossed in miso-tahini dressing and topped with a fried egg.
Pick-Me-Up: Coffee with milk
Snack: Yogurt bowl
Dinner: Leftovers—whole wheat pasta with spinach, chopped seitan, and parm
Snack: Ice cream
Hope your Wednesday was a good one!
What was the best thing you ate this week?
Hungry for more?
Subscribe to get the latest nutrition information, self-care strategies, and healthy living tips delivered right to your inbox.