Good morning and happy Wednesday! How's your week going? Ready for another What I Ate Wednesday? I'm kind of loving that 119 is a prime number. So satisfying for some reason. Yes, I know I'm a little weird…Thank you as always to the lovely Jenn of Peas & Crayons for hosting the weekly link part. Take a visit to see more WIAW from other bloggers!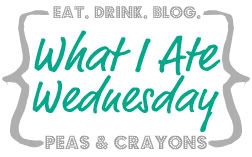 Monday was just another busy work day. After working on a project for another job after I got home, I was ready for some therapeutic cleaning and music-blasting. Some fridge-cleaning was also involved in the way of using up leftovers in overnight oats, convenient snacks, and a general theme of "stuff I need to use up" in a bowl. Whatever works!
Breakfast: (unpictured) half a banana before the gym; Overnight oats (I skip the milk because I like it better this way) made with Greek yogurt when I got to work
Snack: Celery with salsa
Lunch: The same old work salad, same old photo
Snack: Cottage cheese w/ blueberries & cereal
Dinner: Leftovers…pulled chicken with kale, veggies, corn, and avocado
Snack: Bourbon banana soft serve with PB2 and a few chocolate chips
What are some of your favorite ways to use leftovers? What's the best thing you've eaten recently? 
Hungry for more?
Subscribe to get the latest nutrition information, self-care strategies, and healthy living tips delivered right to your inbox.