I swear, it's like I blinked and it's the middle of the week again—aka time for another What I Ate Wednesday . Thank you as always to the lovely Jenn of Peas & Crayons for hosting the weekly link part. Take a visit to see more WIAW from other bloggers!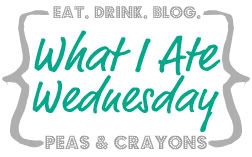 I kind of feel like work is grinding me into a fine powder as of late. As I mentioned last week, state surveyors have been doing their annual surprise inspection at the place I work, so my days have been so ridiculous it's sort of comical. Going into the weekend, all I wanted to do was take it easy, spend my time catching up on sleep and human things like laundry and enjoying NYC—anything but think about work! For the most part, that's exactly what I did. It was glorious. After overhearing a sound check in Central Park on Saturday, I've been listening to She & Him almost nonstop, which has been an awesome counterbalance to the crazy. I do wish I'd known about this song this time last month, or this time a year ago, or two years ago, or always…
Anyway…Since I had no idea if weekday eats were going to be something I'd have time to photograph, here's what I ate on Saturday…
Breakfast: Zucchini bread oatmeal with PB
Jen's bruschetta quinoa salad with cannellini beans and goat cheese over baby kale; an unpictured white nectarine with a spoonful of Greek yogurt for garnish
Unpictured "snacks": decaf iced coffee, sparkling reisling
Dinner: A mess of egg whites & veggies over cubed steamed sweet potato (cleaning out the fridge), topped with hummus & goat cheese
Snack: A simple smoothie of soy milk, have a frozen banana, and cocoa powder blended with lots of ice & a little xanthan gum.
What was the best thing you ate this weekend? 
Hungry for more?
Subscribe to get the latest nutrition information, self-care strategies, and healthy living tips delivered right to your inbox.