After a weekend at the beach, I felt recharged and ready to get to work on Monday. And then suddenly it was the middle of the week. Time for another What I Ate Wednesday . Thank you as always to the lovely Jenn of Peas & Crayons for hosting the weekly link part. Take a visit to see more WIAW from other bloggers!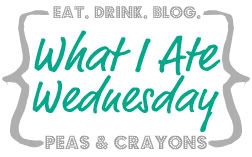 Sometimes meatless Mondays happen, and sometimes the opposite happens. I blame the PMS and strength-training monsters (there was meatless Tuesday and Friday, so I like to think it all balances out). The day was a total blur, and I have to say, having some high-quality animal protein helped me get through it all. I find that if I'm going to go that route, I prefer fish, and I'm much more inclined to eat a lean cut of beef than I am chicken. I've recently been working on buying only grass-fed, organic beef, since it's something I eat more regularly than, say, a year ago.
Breakfast: Overnight oats made with kefir instead of yogurt
Lunch: Salad with grilled veggies, chickpeas, hard-boiled egg, and hummus
Snack (unpictured): Greek yogurt with puffed millet and blueberries; later, a decaf iced coffee while out with a lady-friend
Dinner: Steak with sauteed kale and mushrooms and quinoa
Snack: Greek frozen yogurt with frozen berries and dark chocolate chips
Do you do meatless Mondays? What are your favorite protein sources—vegetarian or not? 
Hungry for more?
Subscribe to get the latest nutrition information, self-care strategies, and healthy living tips delivered right to your inbox.