Yes, that title is a shameless reference to an Elvis Costello song. This week's What I Ate Wednesday post is about the super-excited Saturday I spent working.  I honestly shouldn't complain—working 8-2 gave me plenty of time for a nap and some interaction with other humans. Thank you as always to the lovely Jenn of Peas & Crayons for hosting the weekly link part. Take a visit to see more WIAW from other bloggers!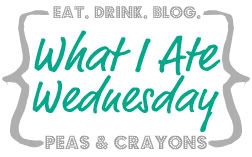 So yes, this Saturday was spent partially at work, but after a catnap, I went for a stroll through Riverside Park. It was freaking glorious. I slept like a worn-out kitten that night.
It was one of those days where I ate some of the same things multiple times because that's what was around and what I was craving.
Breakfast: Greek yogurt with ground flax and a banana, an uncpictured coconut coffee from Dunkin Donuts
Lunch: Salad—baby spinach with cherry tomatoes, roasted pepper, quinoa, and black-eyed peas
Snacks: Greek yogurt (again) with puffed millet and sunflower seed butter; an unpictured green juice while out walking around the city
Dinner: quinoa (yes, more quinoa) with egg whites, kale, cherry tomatoes, avocado, and hummus
Snacks: popcorn
Do you ever eat certain things more once over the course of a day? 
Hungry for more?
Subscribe to get the latest nutrition information, self-care strategies, and healthy living tips delivered right to your inbox.