Wow, Wednesday, way to sneak up on me! Happy What I Ate Wednesday again! Thank you as always to the lovely Jenn of Peas & Crayons for hosting the weekly link part. Take a visit to see more WIAW from other bloggers!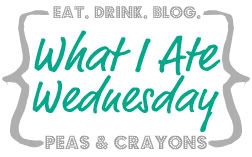 This week feels a little lopsided since I had a three-day weekend but having the extra weekday off was really nice and restful. Here's what I ate on day two of my random long weekend—aka Sunday.
Breakfast: Zucchini bread oatmeal (I eat this at least 3 or 4 times a week—so freaking good, especially with egg whites cooked in)
Lunch: Big salad with chickpeas and toast with hummus & roasted eggplant on the side
Snack: Greek yogurt with puffed millet, chopped white peach, and a little sunflower seed butter
Later…rose wine (unpictured) at a wine bar in the West Village
Dinner: Quinoa with steamed kale, roasted broccoli, egg whites (needed to use them up), hummus, and goat cheese
Snack: Chocolate chia pudding
What's the best thing you've eaten recently? Do you have a breakfast food you eat more often than others? 
Hungry for more?
Subscribe to get the latest nutrition information, self-care strategies, and healthy living tips delivered right to your inbox.