So, I get weirdly excited about multiples of 11 and prime numbers. 113 may not be a multiple of a 11, but it is a prime number—the 30th prime number to exact…anyway. Much good all that coffee's done me lately. Suddenly it's  What I Ate Wednesday again! Thank you as always to the lovely Jenn of Peas & Crayons for hosting the weekly link part. Take a visit to see more WIAW from other bloggers!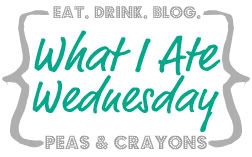 This week has been going by quickly as usual. I think I'm still a little thrown off by working Memorial Day—I keep thinking it's a day later than it is! I also feel a bit like I'm losing my mind. For example, why was I googling "struck by lightning twice" yesterday morning right before I left for work? Monday was kind of a marathon day. It didn't help that I was I was exhausted because of biology. Seriously, there is no evolutionary advantage to having menstrual cramps hurt so much! I can't understand "the plant is bitter because it's poisonous so don't eat the plant, "but this is ridiculous. However!  I got to see a bunch of people I hadn't seen in way too long, which made it into a really nice day overall.
Pre-Gym/Ass-crack of dawn: (unpictured) coconut water
Breakfast: Zucchini bread oatmeal (with egg whites cooked in) at my desk; PB on top
Lunch: Vegetable barley soup and veggies
Snack: Babybel cheese before rushing off for coffee with a friend
Snack: Cottage cheese with banana and a little cereal for crunch
Drink: (unpictured) White wine at a bar while catching up with some of my former fellow dietietic interns
Dinner: Salad with lots of veggies, avocado, and leftover lobster meat (my mom is my hero for taking me out for lobster the other night after reading last week's post about my weird PMS-induced craving)
Snack (unpictured): a sliver of imitation Momofuku crack pie my mom made. So. Freaking. Good.
Do you ever get thrown off by holiday weekend? What's the best thing you've eaten recently? 
Hungry for more?
Subscribe to get the latest nutrition information, self-care strategies, and healthy living tips delivered right to your inbox.