Is it just me or is this week flying by? Suddenly it's  What I Ate Wednesday again! Thank you as always to the lovely Jenn of Peas & Crayons for hosting the weekly link part. Take a visit to see more WIAW from other bloggers!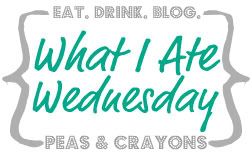 Since I wasn't sure if I'd be too busy to snap pictures this week, I wanted to share some weekend eats. Here's what I ate on my "artist date" Saturday, between fun excursion.
Breakfast: apple spice oatmeal with PB and fig & ginger preserves
Lunch: spinach & mushroom egg white omelette with a side salad and toast with cottage cheese & nutritional yeast
Snack: Greek yogurt with puffed millet and sun butter
Dinner: whole wheat rotini with grilled chicken, kale, butternut squash, and goat cheese; a glass of wine
Snack: banana with PB2 and shredded coconut (a recent Whole Foods bulk bin purchase)
What's the best thing you've eaten recently? 
Hungry for more?
Subscribe to get the latest nutrition information, self-care strategies, and healthy living tips delivered right to your inbox.