So wow, it's my official first post-grad  What I Ate Wednesday. I kind of neer thought I'd be able to write that. Thank you as always to the lovely Jenn of Peas & Crayons for hosting the weekly link part. Take a visit to see more WIAW from other bloggers!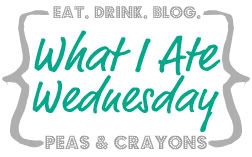 My graduation stay started with a fire in the basement in my building, but ended with lobster and chocolate fondue. So hey.
Breakfast: A hurried bowl of Greek yogurt with berries, cereal, and sunbutter
Lunch: Giant salad, scrambled egg whites, and toast with avocado
Dinner: a few pieces of a delicious sushi roll, (unpictured) oysters, steamed lobster with broccolini and sauteed spinach, fruit dipped in chocolate fondue, sauvignon blanc
What's your ultimate celebration meal? 
Hungry for more?
Subscribe to get the latest nutrition information, self-care strategies, and healthy living tips delivered right to your inbox.