Welcome to another installment of "What I Ate Wednesday." For more info about the series, visit founder Jenn's blog, Peas & Crayons.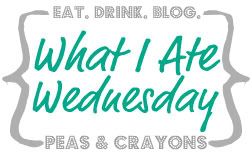 What a day! I'll be so happy when these 12-hour Wednesdays become discontinued in July. I love that night classes make it possible for me to both work and get an education, but holy crap—I am so excited for July to get here. I know that my fall course schedule is just as packed as these past six weeks have been, but I think two school-free months will help me recharge.
Foodwise, today was a pretty basic Wednesday. I have, however, been making an effort to include some fermented foods this week while I take a course of antibiotics, along with an acidophilus supplement twice a day. Since there are many different kinds of good gut bacteria, I've been eating foods that contain them, such as yogurt, miso, and Chris' weird-ass sauerkraut-based cashew cheese. I will admit to being a little confused as to what food group I'd file it under. I figured it makes a good source of healthy fats. It's actually really good!  I think the best part of my day was kicking up my feet as I  settled in for a late dinner with the newspaper. It's the little things…
Tomorrow I'm getting my Invisalign "nubs" off (finally) and going to see a friend's play. I can't wait!
Breakfast: Overnight oats with berries
Lunch: Packed salad (greens, lentils, roasted veggies, oil & vinegar); amaranth crackers; an apple—admittedly a little blah but got the job done
Snack: Green smoothie (frozen fruit + spinach + yogurt + ice) with oats, topped w/ granola
Dinner: A little baked tofu with the last of the roasted cauliflower; an Ezekiel cinnamon raisin English muffin with Chris' weird-but-good cashew cheese
Snack: Mint chocolate chip ice cream
Hope your Wednesday was a good one!
Hungry for more?
Subscribe to get the latest nutrition information, self-care strategies, and healthy living tips delivered right to your inbox.