Happy Wednesday! I'm in the middle of my first week at a new job and my eyes are a little glazed over from all the new information I'm taking in, but I wasn't going to forget this week's WIAW festivities. I'm linking up to the weekly blog party, hosted by the lovely Jenn of Peas & Crayons. Take a visit to see more WIAW from other bloggers!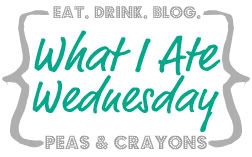 Monday began early, with this awesome coconut water—the raw stuff really is good!  It got me through a good nerve-calmign workout until breakfast, which was made-ahead zucchini bread oatmeal.
First off, I just need to comment on the hilariousness of my new ID photo—because I got some color on Sunday, which was spent mostly outside, I look kind of like a weirdly happy Hay Fever Barbie. At least it's an improvement over my last ID, where I looked like an underaged mail order bride.
One of the perks of my new job is free lunch and breakfast, but this salad, while enough to keep me form gnawing my arm off, was a reminder to get back in the habit of packing snacks. At least now I have a desk instead of lab coat pockets for storage! Small pleasures…
I was about ready to pass out from hunger when I got home, though, so I threw together a quick green smoothie. Dinner happened a few hours later. My brain was so fried, I totally forgot I'd had salad for lunch and threw together another (much more satisfying, avocado-graced) one to go with soup and toast from the freezer. So glam. Before passing the F out for the night, I had some soy milk and graham crackers. For whatever reason, I've been digging soy milk again—the unsweetened kind especially. There's something about that chalky taste I actually really like.
What do you make for dinner when your brain is fried? What's the best thing you've eaten recently? Do you like soy milk? 
Hungry for more?
Subscribe to get the latest nutrition information, self-care strategies, and healthy living tips delivered right to your inbox.