Wednesday comes quickly, no? Hope you're having a good week so far. Mine has been busy, but good-busy.  Lots of things going on—I'll share more details later.  So let's do this What I Ate Wednesday thing, shall we? As always, thanks to Jenn for hosting. To see more WIAW from other bloggers, visit Peas & Crayons.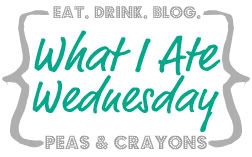 Monday was something of a roller coaster, and more about food as fuel than anything. Sorry if my photos are a little blurry—I feel like I barely stopped moving all day.
Breakfast: Oats w/ flax, plum & blueberries, topped w/ sunflower seed butter
Lunch: Salad and toast with smoked salmon and avocado, a piece of dark-chocolate-covered ginger
Snack: Plain Greek yogurt with berries, cereal, and fig & ginger preserves
Dinner: This stir-fry—a recent favorite; a square of dark chocolate (yep, more chocolate)
Snack: (unpictured) sliced banana w/ PB2
What's the best thing you've eaten recently? 
Hungry for more?
Subscribe to get the latest nutrition information, self-care strategies, and healthy living tips delivered right to your inbox.