Good morning and happy Wednesday! This week is going crazy-fast for me, but I've been enjoying the nice weather we're finally having here in the northeast, even if it's going back into the 50's later this week. So let's do this What I Ate Wednesday thing, shall we? As always, thanks to Jenn for hosting. To see more WIAW from other bloggers, visit Peas & Crayons.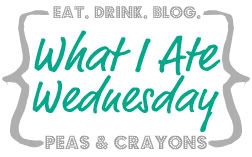 So far this week, I haven't been photographing much, mostly because I've either been too busy to remember or not in the mood to interrupt a conversation with an iPhone camera or because I've been with people who don't really know about the blog. I don't like to be "that girl who takes pictures of all her food," you know?  I'm curious—do any of you bloggers out there have any particular rules about food photos when you're with others?
Though I'm exaggerating when I liken having a food blog to having kids or a dog, you do have to say at point, "Hey, I have this thing that's part of my life, and I need to do things for it—are you cool being around that sometimes?"  Or like, "Hey, I need to go walk my blog—want to come with?"
It's more than just being seen as "weird," though. For example, what if someone reads into an implied intimacy because you show off a meal you enjoyed with them online? It's a very subtle but powerful signal we bloggers use, often without even realizing it. Since the nature of sharing meals is an intimate act in and of itself (think way back to caveman days—you didn't share your fire or meat with your enemies), posting those things for the world to see is a way of saying, "Look at these intimate things we're doing together." Even if the dining company isn't fully conscious of this, it definitely alters the dynamic. It's somewhat akin to saying, "Do you want to come back to my place?"
I've had to teach myself to really tune in to my gut feeling about someone before I whip out my phone or camera. I've also noticed that my desire to share photos of meals I enjoy with someone—or lack there of–says a lot about my feelings for that person. I actually once realized I needed to stop seeing someone because I was terrified that if I posted about meals I'd had with them, they'd start acting like they "owned" me. On the flip side, I've gone out with people (though very, very few) with whom I've had to keep myself from taking a photo on the first date.
Haha anyway, I'm just rambling. Whether it's new friends, new more-than-friends, or new co-workers, I often wonder how best to approach it once I've gotten comfortable enough to do so. I find What I Ate Wednesday is actually the easiest ice-breaker because I can just explain, "Yeah, I do this fun weekly link-up…so that's why I'm photographing my lunch tray/cocktail/dinner."
Speaking of What I Ate Wednesday, let's get to the what-I-ate part. Here's what I enjoyed on Sunday.
Breakfast: Apple-spice oats with sunflower butter & bee pollen. 
Lunch: Poached eggs with avocado, mushrooms, and tomato, English muffin on the side
Snack: (unpictured) Hummus, crackers, and olives during a wine-tasting
Dinner: Steak with mango-cilantro salsa; side salad 
Snack: (unpictured) seaweed, cucumber salad
So I'm curious—do you have any food photo "rules?" What's the best thing you've eaten recently?  
Hungry for more?
Subscribe to get the latest nutrition information, self-care strategies, and healthy living tips delivered right to your inbox.