Welcome to another "What I Ate Wednesday." Meander on over to Jenn's blog, Peas & Crayons, for more about the series and to see posts from other bloggers.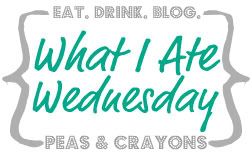 Happy Wednesday! Anyone else feeling the full moon lunar eclipse? I feel like the energy of this one is very constructive and collaborative and not quite as crazy-inducing as full moons tend to be. I woke up early for a quick workout and to tweak an article before heading to the clinic. I have several looming deadlines, and I was really happy to be able to head home on the early side of the afternoon and get some more stuff out of the way.
I was especially glad I had time for a filling snack/dinner part 1 before class, because we ran late and dinner wasn't until close to 10 pm.  I did manage to stumble on a new favorite combination: eggs with melted babybel cheese.  I mean, dude—why did it take me so long to try this? F-ing amazing. It was good brain food for the case studies I spent the rest of my night working on.
Again, Wednesdays tend to be the day I rely on a lot of stand-bys, but it was nice to have restaurant leftovers as part of lunch and to make something new (to me) for dinner.
Breakfast: Overnight oats topped with berries
Lunch: Caravan of Dreams leftovers over greens with added avocado, cucumber and roasted pepper
Snack: Green smoothie with oats and a little coconut oil swirled on top
Late Dinner: Eggs on an Ezekiel English muffin with sliced Babybel cheese melted on top; grilled asparagus
Snack: Chocolate Banana Softserve w/ a crumbled date ball (made a new batch finally)
Hope you had a good Wednesday!
What was the best thing you ate this week?
Hungry for more?
Subscribe to get the latest nutrition information, self-care strategies, and healthy living tips delivered right to your inbox.