Welcome to another Running with Spoons Thinking Out Loud link party where stream-of-consciousness is the name of the game! Thanks to Amanda for hosting!

This week is freaking insane. Just for the hell of it, here are some pictures from the past few days…
1.) I finally caved and bought an iPhone5 the other day. With the recycle credit, I was able to score a sweet discount, which was a nice surprise. First things first—I made this my wallpaper: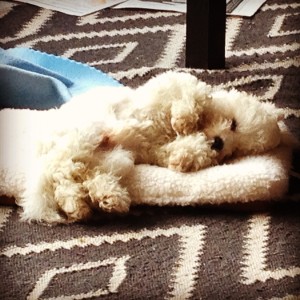 This has nothing to do with anything, but it's been great this summer to take a real break from dating instead of just talking about taking a break. It's been awesome to just focus on work and spend time with family, friends, and the luck dragon. Sorry I'm not sorry that my dog's bowel function is way more interesting to me right now than Mr. "Hope you like motorcycles" and Mr. "I know I blew you off a few months ago, but nothing really panned out and I think I'd like the chance to ghost you this time." Definitely not missing the $4 wine headaches and awkward chit-chat. Of course, sometimes I do wish there was someone who could tell me how things turn out. Maybe a love psychic?
2.) This nightlight is the best thing ever.
3.) One a month I make steak to replenish the ol' iron stores. My favorite way to enjoy it is with arugula salad.
4.) I had lunch with my mom at Le Pain Quotidien the other day. We each got a salad and shared this gorgeous avocado toast. Love the chia seeds on top!
5.) Token "green juice while waiting for the bus at 7:15 a.m." shot. #imwideawakeitsmorning
6.) A patient told me this week that they appreciated my wearing my ID badge "correctly." Thanks, I try.
How's your week going?
Hungry for more?
Subscribe to get the latest nutrition information, self-care strategies, and healthy living tips delivered right to your inbox.