Happy What I Ate Wednesday. For those new to the party, every Wednesday, I link up with a bunch of other bloggers to share a day of food.
My mom and sister came in to visit Saturday and we had a mini-vacation. The original plan had been to go to Wandelust out in Brooklyn, but we decided to create our own "mindfulness triathlon" of yoga, pedicures, and wine-and-cheese-tasting. It was a fun, delicious day.
Breakfast: I wanted to get some veggies in early, so I had scrambled egg whites with kale, steamed kabocha, and avocado, drizzled with tahini and sesame seeds. A few hours later, I had a sliced pluot and more coffee to keep me from getting too hungry during yoga.
After yoga, we cleaned ourselves up and went for lunch: We started with oysters.
I had a nicoise salad that hit all the right spots.
After lunch, we walked around the farmers' market and then went and got pedicures while it rained. We popped into a few shops too—I got a new ring and 2 necklaces at So Good Jewelry on Bleecker—love them for when you want a couple trendy things but don't want to spend a lot.
and a box of 4 chocolate truffles to take home at Sugar and Plumm. It was tough to make a selection because the display was basically all my wildest PMS dreams come true, but I eventually narrowed it down to a Salted Caramel, Mexique, Peruvian, and Ginger.
We went to Murray's Cheese Bar for dinner and—along with a few glasses of lambrusco—shared a few things:
A selection of meats and cheeses. My mom and sister said they liked the blue (paired with salted caramel sauce) the best. I was partial to the one with all the herbs in the rind. The salami and prosciutto were also delicious.
We also shared some kale sprouts (amazing), fried burrata in heirloom tomato broth (meh)…
and the "seasonal mac and cheese," which involved buffalo chicken and blue cheese. We went with the option to top it with bacon and crispy onions.
Even though it was a lot of rich food, I felt like I ate the exact right amount to feel satisfied and good. The second glass of wine was probably not the best idea, but it was so delicious, it was worth the mild headache in the morning. My alcohol tolerance is a joke these days.
I was a little surprised, though, to be hungry after taking the dog out for his "last call" walk, but nothing a sliced peach with a little of my favorite nonfat ricotta and raspberry preserves couldn't fix. I think this might officially be the end of summer peaches for me, though.
What did you eat this weekend?
To see more WIAW from other bloggers, visit founder Jenn's blog Peas & Crayons.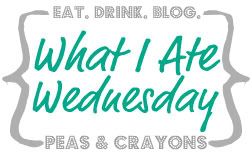 Hungry for more?
Subscribe to get the latest nutrition information, self-care strategies, and healthy living tips delivered right to your inbox.