Happy Sunday! Welcome to another Small Collection, a series I started to help me focus on the things that bring me joy.
Here's this week's list, which has an accidental theme:
1.) The puppy likes Bob Dylan. Phew. Not gonna lie—this full moon-"we remember"-early September week was rough, and I was reaching for some of my go-to comfort albums. This one especially:
It's funny how the music we turn to at 18 is what we turn to 10 years later. I'm sure I could be 78 and still want to listen to the same certain songs when I have a bad day.
2.) Speaking of Bob Dylan, this photo of Eli cracked me up because it reminded me of the cover of Tarantula: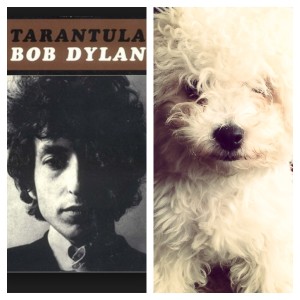 3.) I'm officially a crazy dog lady and I'm kind of okay with it. #sorrynotsorry
4.) More Bob Dylan: I stayed up listening to this on the radio the other night because I am 78 and still own a radio. I am that person I hated in college who listens to talk radio and cooks and wears a bra every day. All that's missing is the gentleman friend who brings me mini pumpkins in the fall instead of flowers.
5.) I got my hair done on Friday. I always look forward to seeing my hairdresser and catching up on what's been going on in her life the past few months. I'm also a fan of what she does to my hair—I love how it looks when I walk out of the salon, but even more importantly, I love how easy it is to take care of in my day-to-day life.
I can't believe I used to be afraid to get highlights. What the f*** was I thinking?
6.) I put "nap" on my to-do list and actually managed to get it done Friday afternoon. It was awesome.
7.) Kabocha squash is back in action. My palms will be orange in no time. I like to steam it and then use it in all kinds of things. I even put it in salad, like so:
8.) Dinner with my dad on Wednesday and girl time with my mom and sister on Saturday.
What's brought you joy this week?