Happy Sunday. How's your weekend been? Mine's been a mix of productive and relaxing. If you've watched or read the the news at all recently (or signed on to any social media platform for that matter), it would be hard to not to see there's a lot of unrest, upset, and all-around bad stuff going on around the world and at home. Though I have my own thoughts and feelings about current events, I usually prefer to keep that stuff off of the blog.
That said, I think those are the times when we especially need to remember to take a second to appreciate the positive things to help bring our focus into balance. Here's a little list of things that have made me happy this week:
1.) I enjoyed a few more birthday dinners: Pho Grand on Tuesday and Gallo Nero last night. I'm a lucky gal.
2.) What would my life be this time of year without soup? I've got a new recipe coming tomorrow.
3.) I finally got a TV. With the exception of a few months in 2012 where I had a set,this is the first time in almost 10 years. It's not like I had anything against TV, it just wasn't something I had. This past summer, though, I admitted to myself that I really missed being able to, like, invite someone over to watch something. I finally realized I'd been buying in to some stupid starving-artist complex about how TV was one of those things only people with normal, stable lives had and that I wasn't entitled to one. Turned out, this weird little voice was actually just trying to keep me down to make it feel better about itself. I can't believe I spent so long feeling ashamed of being able to afford a monthly cable bill.
So yeah, yesterday morning, I had Open House on while I folded laundry (new guilty pleasure?). I felt like a grown-ass adult and totally liked it.
4.) Eli continues to thrive with my family and their dogs. Little dude is climbing up on chairs and things now. My dad sent me this picture of him after his latest haircut the other day.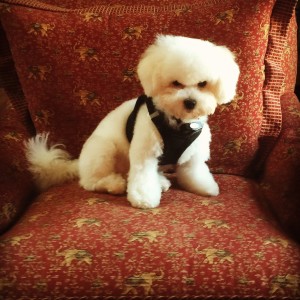 5.) Yesterday, I met up with a friend I hadn't seen since the freaking summertime for some yoga and vegan eats at Jivamukti. Anytime I get to catch up on girl-talk while simultaneously feeding the mushroom tooth is a win. These grilled portobellos and spicy tempeh were fantastic, especially with the turmeric tahini dressing.
What's brought you joy recently?